What is E-Mail Marketing?
E-mail marketing has become a potent tool for companies to engage with their audience in the modern digital world when communication takes place mostly through electronic methods. Sending personalised emails, updates, or offers to specific people's inboxes is known as email marketing. There are many plugins for WordPress website for the purpose of e-mail marketing.
Advantages of E-mail Marketing in Your Business
Email marketing enables businesses to take many advantages. Some of those benefits are mentioned below:
Wide Reach: Email marketing offers a huge potential audience because billions of people use it as their main form of contact. You can communicate with clients regardless of their demographics, where they are located, or what time zone they are in.
Targeted Messaging: With email marketing, companies may divide up their audience and send tailored messages. You may target certain groups with emails by analysing customer data, such as purchase history or preferences, which increases the probability that recipients will interact with them and convert.
Cost-Effectiveness: Email marketing is less expensive than conventional marketing strategies. It eliminates the need for printing and the associated postal expenses associated with mailing physical letters. You may automate and streamline your email marketing using the appropriate WordPress plugins, which will save you time and money.
Measurable Results via Email Marketing: It offers comprehensive statistics and tracking tools. You can assess the efficiency of your campaigns and make wise decisions by monitoring indicators like open rates, click-through rates, and conversions.
The Best WordPress Plugins that Paves a Way to Email Marketing
WordPress offers a large selection of plugins that can improve your marketing efforts, allowing you to successfully harness the power of e-mail marketing. WordPress plugin updates are coming day-to-day, the use of updated versions of e-mail marketing plugins helps e-commerce businesses to drive sales.
Below are the Most Popular Email Marketing Plugins Available in WordPress:
MailPoet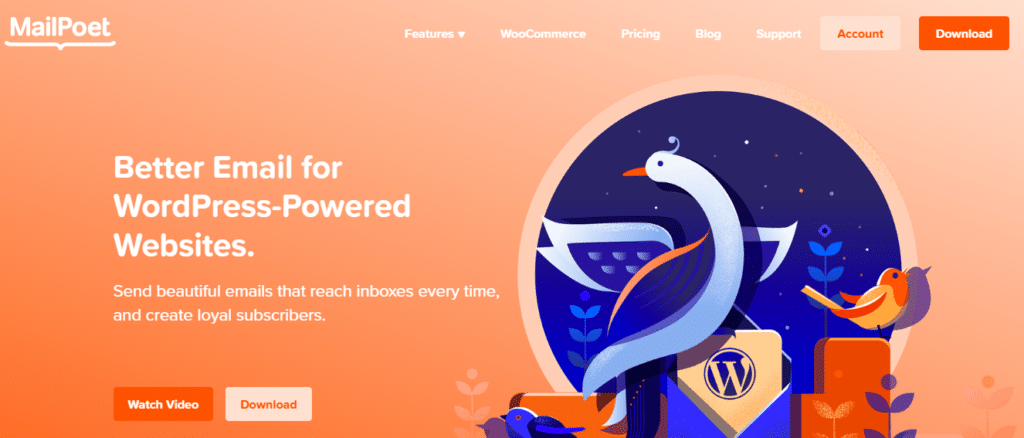 A well-liked email marketing plugin for WordPress called MailPoet enables website owners to quickly manage and deliver newsletters, automated emails, and email campaigns to their subscribers. It smoothly integrates with WordPress and offers a user-friendly interface and a number of features to assist businesses in reaching their target audience. The main features of the MailPoet mail marketing plugin are as follows:
Drag-and-Drop Newsletter Editor: MailPoet includes a user-friendly yet robust drag-and-drop editor that enables users to produce aesthetically beautiful newsletters without any coding experience. Choose your favourite editable templates or also you can create custom templates for the same purpose.
Subscriber Management: The plugin offers a thorough subscriber management system that enables you to segment, export, and import your subscribers. Your emails will be delivered to the appropriate recipients if you utilise multiple lists or segments depending on user choices, behaviour, or other factors.
WooCommerce connection: MailPoet provides a smooth connection if you run an online store using both WooCommerce and WordPress. To increase conversions and customer engagement, you may send automatic emails about sales, order confirmations, abandoned carts, and product suggestions.
GDPR Compliance: MailPoet places a high priority on GDPR compliance as data privacy laws become important. The plugin has tools that can help you manage data deletion requests, gain subscriber permission, and make sure your email marketing procedures comply with data protection laws.
Responsive Design and Compatibility: MailPoet makes sure that your newsletters and emails appear fantastic on all devices, including PCs, tablets, and mobile phones. In order to guarantee compatibility and efficient operation, it also connects with well-known WordPress themes and plugins.
Mailchimp

A plugin made expressly for WordPress websites is available from the well-known email marketing service Mailchimp. With the help of this plugin, WordPress site owners can quickly link their Mailchimp account to their website and make use of sophisticated email marketing tools. Look out for the main characteristics of the Mailchimp for WordPress plugin.
Modifiable Signup Forms: With the plugin, you can make and integrate enticing, modifiable signup forms on your WordPress website. By enabling users to join your email list using these forms, you may collect leads and expand your audience.
Automated Campaigns: Using Mailchimp's automation feature, you can construct email campaigns that are automatically sent out in response to specific behaviours and events. Create welcome emails, follow-up emails, reminders for abandoned carts, and other emails that are specifically designed to engage and grow your subscriber base.
Targeting and Segmentation: The plugin's powerful segmentation features let you divide your subscriber base into groups according to a range of factors, including demographics, preferences, and previous interactions. You may then send email campaigns that are highly targeted and customised, which boosts their efficacy.
Comprehensive Statistics and Reporting: These features are provided by the plugin to manage and maintain your email campaigns. To evaluate the success of your campaigns and decide on optimisation strategies based on data, you may track subscriber activity, open rates, click-through rates, and other critical indicators.
E-commerce connectivity: If you use WordPress to manage an online business, the Mailchimp plugin provides connectivity with well-known e-commerce systems. With the help of this connection, you may increase sales by making personalised email campaigns, sending targeted product suggestions, and monitoring purchase behaviour.
Hustle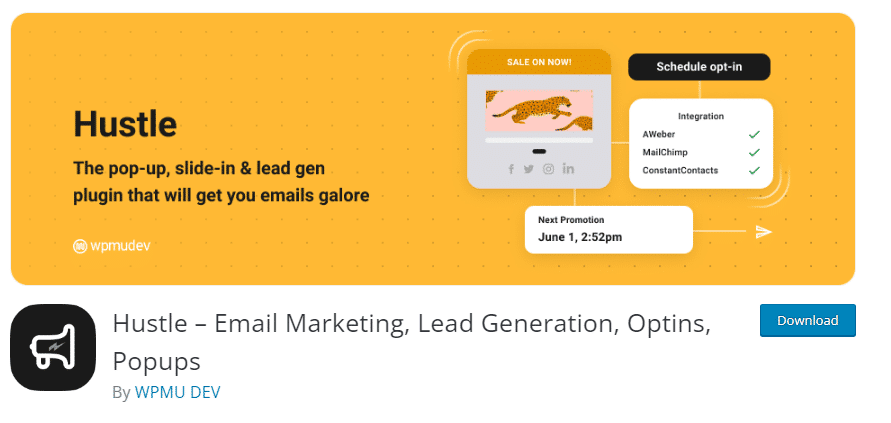 An efficient tool for managing your email marketing campaigns and expanding your subscriber base is the Hustle Email Marketing plugin for WordPress. You can design eye-catching opt-in forms, pop-ups, and slide-ins using its user-friendly interface and a variety of features to draw website users' attention and turn them into subscribers. The Hustle Email Marketing plugin has the following salient characteristics:
Opt-in Form Builder: The plugin offers a drag-and-drop form builder that enables you to design customised opt-in forms catered to your particular requirements. Inline forms, pop-ups, slide-ins, and widgets are just a few of the many form kinds you may select from.
A/B Testing: Hustle gives you the ability to carry out A/B testing to improve your opt-in forms and increase conversions. To find out which form performs best, you may develop many variants and test various headings, visual elements, and call-to-action buttons.
Integration with Email Service Providers (ESPs): The Hustle plugin easily connects to well-known ESPs like Mailchimp, Constant Contact, AWeber, and others. Your subscriber data may be simply synced and your email marketing campaigns can be automated thanks to this.
Targeting and Display Rules: You have complete control over the timing and location of your opt-in forms. Your forms may be presented at the ideal time to maximise conversions using unique display rules you can configure depending on variables like time on page, scroll behaviour, or certain pages.
Design and Customization: The plugin offers a large selection of pre-designed themes and customization possibilities to match the branding of your website. To design aesthetically beautiful and engaging opt-in forms, you may pick from a variety of form layouts, alter the colours and fonts, and include photos or videos.
Icegram Express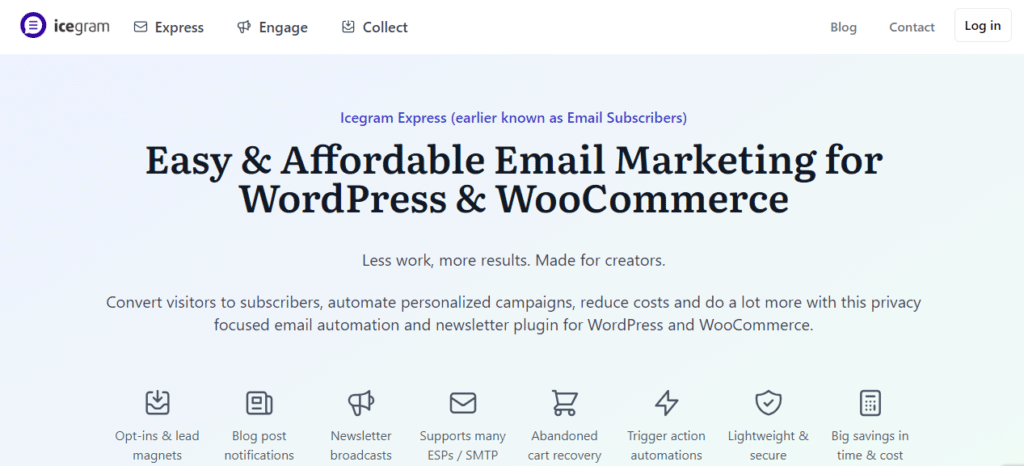 The powerful email marketing plugin Icegram Express was created especially for WordPress websites. It makes it simple for website owners and marketers to gather leads, create email lists, and conduct niche email campaigns to engage their audience. Icegram Express offers a full-service solution for efficient email marketing with a user-friendly UI and powerful functionality.
Lead Capture Forms: Icegram Express offers many lead capture forms that are fully customisable, including popups, slide-ins, header/footer bars, and inline forms. To gather visitor information and expand your email list, these forms may be put strategically on your website.
Opt-in Form Designer: The plugin provides a user-friendly form designer with a drag-and-drop user interface, enabling you to construct opt-in forms that are aesthetically pleasing without any coding experience. The layout, hues, fonts, and pictures may all be altered to fit the identity of your website.
Targeting and Segmentation: You may focus on particular subgroups of your audience depending on a variety of factors, like user behaviour, referral source, geography, or device type. Delivering personalised messaging and offers will enable you to increase engagement and conversions.
Email Campaign Management: Icegram Express has an email campaign management system built-in. For the purpose of nurturing leads and keeping in constant contact with your subscribers, you may develop and send automated email sequences, broadcast newsletters, or drip campaigns.
Mobile Responsive: By ensuring that your opt-in forms and email campaigns are mobile responsive, the plugin makes sure that they will adjust and appear properly on a variety of devices and screen sizes. In order to maximise conversions and offer a smooth user experience, this is essential.
Optinmonster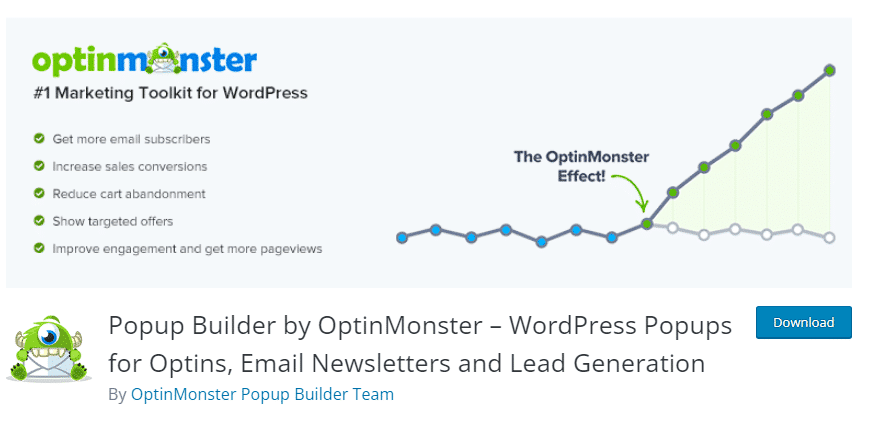 The well-known WordPress email marketing plugin OptinMonster aids in the conversion of site visitors into subscribers and buyers. It offers a wide range of features and tools to build efficient opt-in forms and email campaigns. Here is a description of OptinMonster's main attributes:
Targeting and Personalization: Using OptinMonster, you may focus on particular subgroups of your audience based on their behaviour, demographics, geography, and other characteristics. Personalised offers and messages can be shown in this way to increase conversions.
Exit-Intent Technology: OptinMonster's exit-intent technology is one of its most notable features. It can tell when a visitor is ready to leave your website and will then display a tailored ad to persuade them to remain or convert. This may be a potent strategy for luring leads before they go away.
Easy Integration with Email Marketing Platforms: Mailchimp, Constant Contact, AWeber, and other popular email marketing platforms are all compatible with OptinMonster. To effectively follow up with and nurture leads, you may use this to automatically sync your subscribers and leads to your email lists.
Pre-installed Success Themes: OptinMonster provides success themes that are available for use right away and may be shown to visitors when they subscribe or carry out a specified activity. These themes support your value offer and enable you to interact with your audience more fully.
Exit-Intent Popup Campaigns: In addition to the exit-intent technology, OptinMonster gives you the ability to design customised exit-intent popups to target departing visitors with enticing offers, discounts, or incentives in an effort to persuade them to stay or complete a transaction.
Sendinblue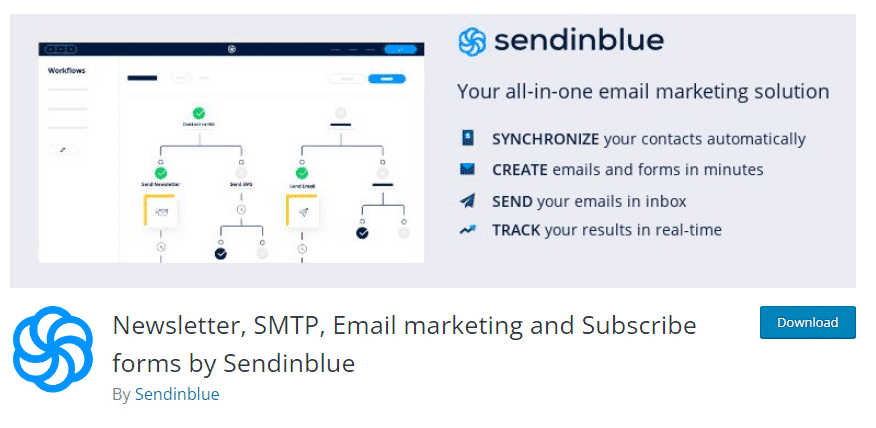 Popular email marketing service Sendinblue offers a plugin made especially for WordPress websites. You may handle your email marketing campaigns more efficiently by utilising the capabilities and functions provided by the Sendinblue Email Marketing plugin. The Sendinblue Email Marketing plugin for WordPress has the following salient features:
Simple Integration: The plugin easily synchronises your email lists, contacts, and campaign data by integrating with your WordPress website.
Contact Management: Your WordPress dashboard has a direct link to a contact management system for email addresses. The plugin makes it simpler to target particular groups with tailored email campaigns by allowing you to create, import, and segment contacts.
Marketing Automation: You can build automatic email processes using Sendinblue's marketing automation features, which are based on user behaviour and triggers. You can schedule welcome emails, cart abandonment reminders, post-purchase follow-ups, and more to contact your audience at the appropriate moment.
Transactional Emails: In addition to marketing emails, the plugin also enables transactional emails, such as order confirmations, shipment updates, and password resets. These automated emails may be altered to better suit your brand's aesthetic and improve client experience.
SMS Marketing: Sendinblue offers SMS marketing integration in addition to email marketing. You may send SMS messages to your subscribers, opening up a new line of communication for your marketing initiatives.
Drip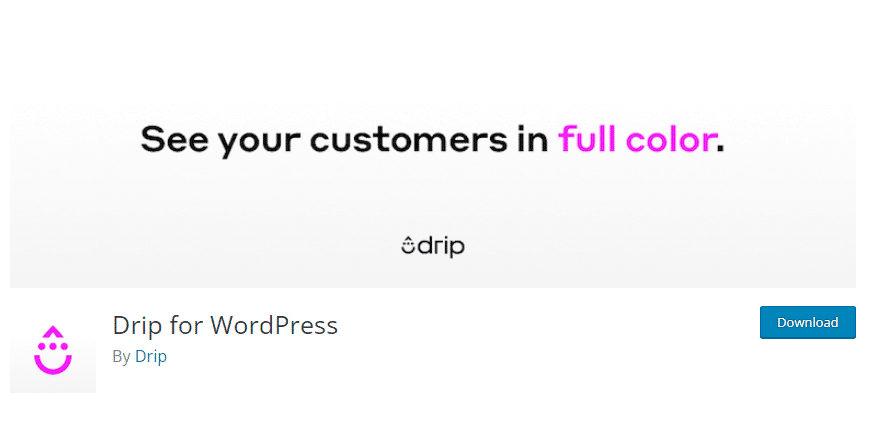 In order to automate their email marketing campaigns, website owners and marketers may use the Drip Email Marketing plugin for WordPress. You can manage and send targeted, customised emails to your subscribers with ease since it interacts smoothly with WordPress. The Drip Email Marketing plugin is a superb option for companies trying to improve their email marketing efforts because of its user-friendly design and sophisticated capabilities.
Automation and Workflow Builder: The Drip Email Marketing plugin features a visual workflow builder that enables you to develop advanced email automation sequences. Your email campaigns may be automated depending on user interactions and behaviour by setting up triggers, actions, and conditions.
Compatibility and Integration: The Drip Email Marketing plugin works with a variety of widely-liked WordPress tools and plugins as well as with the main email marketing services. As a result, you may automate operations, synchronise subscriber data across platforms, and focus your marketing efforts.
Drip Campaigns and Lead Nurturing: The Drip Email Marketing plugin supports drip campaigns, which let you plan a series of emails to be delivered at predetermined intervals. The lead nurturing, onboarding, or product education initiatives benefit the most from this functionality.
Segmented Rules: Complex rules based on many circumstances and combinations may be created using the plugin's powerful segmentation capabilities. With the use of highly relevant content, you may more accurately target different segments of your subscriber base.
Reliable Deliverability: The plugin makes use of reliable email delivery providers to guarantee that your emails get to the recipients' inboxes and aren't flagged as spam. Your communications are therefore more likely to be delivered, and you may maintain a solid sender reputation.
Conclusion
Any effective digital marketing plan must still include email marketing. You can maximise the effectiveness of email marketing and increase engagement, conversions, and client loyalty with the appropriate WordPress plugins. There is a plugin accessible to meet your particular demands, whether you select MailPoet for its simplicity and user-friendly design, Mailchimp for WordPress for its smooth interaction with the well-known e-mail marketing platform, or Hustle for its numerous opt-in form possibilities.
To continuously optimise and enhance your results, keep in mind to segment your email lists wisely, keep track of the effectiveness of your campaigns, and constantly take into account the preferences of your audience. Email marketing may completely transform your company when used in conjunction with the appropriate WordPress plugins. You can communicate with a specific audience, get your point through, and receive quantifiable results. So make use of email marketing's possibilities and see how it helps your company succeed online.