Due to their ability to offer a certain user group special content and services, membership websites have become extremely popular in the modern digital era. WordPress CMS (Content Management System) is a great option whether you want to build a community-based platform or a paid membership site for premium content. There are available many plugins for WordPress website to build just like membership websites.
A membership website's main objectives are to foster a sense of community and offer value to its users. It fosters a sense of community and grants access to resources or information that are only available to members. People are frequently inspired to join paid organizations because of this exclusivity.
The Most Common Key Aspects Often Found in the Membership Websites
Login and registration:
These areas must be filled out in order to make premium content available to premium users. They can access the members-only section after registering and logging in using their own-defined credentials.
Subscription or fee structure:
To access the unique material on membership websites, users often have to pay a one-time or ongoing subscription charge. Different membership levels or tiers with differing levels of access and advantages may be offered as part of the pricing structure.
Exclusive material and resources:
Access to exclusive content like articles, videos, tutorials, webinars, e-books, or downloadable resources is frequently made available through memberships. Usually, this information is adapted to the members' unique requirements and interests.
Community Building;
Membership websites encourage member-to-member contact, which helps to create a feeling of community. This may be done by utilizing functions like forums, discussion boards, chat rooms, or social networking sites.
Benefits of membership websites:
Membership websites frequently provide extra advantages and incentives to their subscribers. Discounts on goods or services, early access to new releases or upgrades, priority customer assistance, or exclusive events and webinars for members are just a few examples.
Personalization and progress tracking:
Some membership websites include tools that monitor members' advancement or provide tailored advice based on their preferences and actions. Offering personalized material and advice, this improves the user experience.
Manage payments and subscriptions:
Membership websites include tools for taking care of payments and subscriptions. A member's subscription can be upgraded or canceled, and they can examine their payment history. They can also amend their payment details.
Reviews and testimonies from members:
Membership websites could invite users to provide comments, endorsements, or other kinds of reviews. In order to attract more subscribers, website administrators might use this information to enhance their products.
Plan Your Membership Website with WordPress
It's important to lay out the aims and purposes of your membership website before getting into the technical details. Select the target market, the kind of products or services you wish to provide, and the membership tiers or levels. Throughout the website-building process, having a clear plan can aid you in making wise judgments.
WordPress offers a flexible and user-friendly framework for managing memberships, user registrations, and content access, so using it to build a membership website is a perfect choice. Take a look at the structure of the getting started with WordPress for your membership website:
Establish Your Membership Objectives:
Decide the reason for your membership website and the benefits you want to provide your members.
Choose the membership types you'll provide (for example, free, premium, or tier-based), as well as the features or material that each level of membership will have access to.
Select a Reliable Web Hosting Provider:
Seek out a dependable web host that provides strong performance, security, and support.
Verify that the hosting plan satisfies the needs of your website, including the need for enough storage space, bandwidth, and the capacity to process member registrations.
Install WordPress:
Select a hosting package that works with WordPress, then install the software on your domain by following the provider's instructions.
For your WordPress site, create a secure admin login and password.
Choose a membership plugin:
WordPress provides a number of membership plugins to assist you in managing memberships, limiting access to content, and handling member registrations.
Find the best plugin to use for the website from the most used plugins such as MemberPress, Restrict Content Pro, and many more.
Configure the Setting of Your Plugin:
Install the plugin and activate the membership plugin of your choice.
Set the plugin's options, including the price, membership levels, payment processors, and email alerts.
Configure any extra features, such as forums, member directories, or drip material, that you require.
Design Your Website:
Create bespoke attractive and responsive layouts for your website using any page builder plugin, such as Elementor or Divi, or a WordPress theme that offers membership features.
Design and build a user-friendly interface for the website and alter the design to reflect your corporate identity. Make sure that your website is offering mobile-friendliness for all mobile devices.
Create Unique Content for Members:
Create unique content, and set up a limit that the content is only available to the registered members of your website.
Set up limited access to certain pages, articles, or downloaded files by using your membership plugin's content restriction options.
Setup for Member Login and Registration:
Set up your members' registration and login procedures.
Make a decision on whether you want to enable social media logins or demand email confirmation for new registrations.
Check that the registration and login procedures are efficient by testing them.
Test and Launch:
Carefully test every aspect of your membership website, such as membership sign-ups, content access, payment processing, and any extra services.
Launch your membership website to the public after everything is up and running.
Regularly Maintain and Update:
To guarantee security and access to the most recent features, often update WordPress, your theme, and keep updating WordPress plugins which are used to build membership websites.
Quickly overseeing and managing member accounts, payments, and inquiries.
Keep giving your subscribers value by regularly updating your material and interacting with your community.
Advantages of Developing a Membership Website
Many advantages exist for both website owners and their subscribers when a membership website is built in WordPress. Listed below are a few benefits:
Restrictions on Content:
By limiting access to specific features or portions of your website, a membership site enables you to provide your members with exclusive material. This is especially helpful if you provide premium or specialized material that you wish to market or make available to only a certain group.
Opportunities for Monetization:
Building a membership website is a terrific method to bring in recurring income. You may establish an ongoing revenue stream by providing premium subscriptions. It's simple to set up numerous membership tiers, payment channels, and subscription models with WordPress's many plugins and integrations.
Building community:
With the help of a membership website, you may encourage a sense of belonging among your users. Forums, message boards, private messaging, and member directories are all available for them to communicate with one another. A beneficial network of like-minded people can be formed as a result, of increasing engagement.
Enhanced User Experience:
WordPress has a large selection of themes and plugins created expressly for membership sites. By supplying features like member profiles, customized dashboards, progress monitoring, and member-only discounts, these solutions may improve the user experience. Additionally, there are possibilities for customization so you may adapt the website to your own requirements.
Course Delivery and Content Drip:
WordPress membership plugins can assist you in providing organized content delivery if you provide online courses or instructional content. In order to let participants move through the course at their own speed, you may plan for information to be distributed gradually. Membership retention and engagement may benefit from this.
Data management:
Membership plugins for WordPress frequently have capabilities for managing member data built right in. You can simply keep track of member data, such as registration information, payment history, and engagement metrics. For bettering the performance of your website and for bettering your understanding of your audience and decision-making processes, you may use this data.
Scalability and integration:
The rich ecosystem of plugins that WordPress has is well-known. Your membership website may be integrated with a variety of applications and services, including email marketing platforms, customer relationship management (CRM) programs, analytics tools, and more. Your website may be scaled and customized to meet your individual demands thanks to this flexibility.
Most Useful Plugins to Create Membership Website in WordPress
There are various plugins available for WordPress that can help with handling user registrations, access control, content limitation, and payment processing when building a membership website. Here are some of the most well-liked and practical WordPress plugins for creating membership websites:
MemberPress: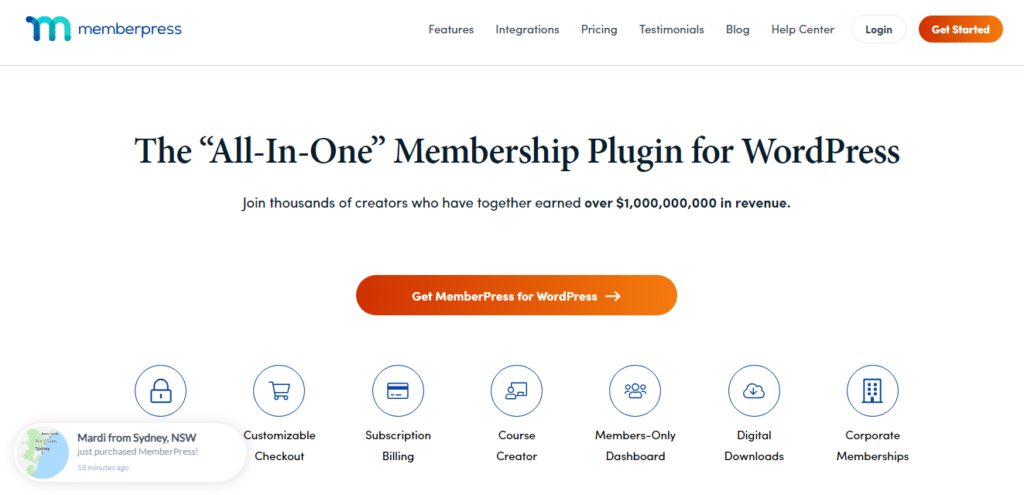 MemberPress is a powerful membership plugin that offers an intuitive method for setting up and maintaining membership levels, restricting who may access what information, and effectively regulating user rights. The ability to establish and manage membership levels is one of MemberPress's primary features. This plugin makes it simple to build up many membership tiers, each with its own set of advantages and access restrictions. A thorough coupon management system is also included in MemberPress. Coupons are a great method to entice new members and thank loyal ones. This plugin makes it simple to create and distribute coupon codes that existing or potential members may use to receive special discounts or other incentives.
Restrict Content Pro: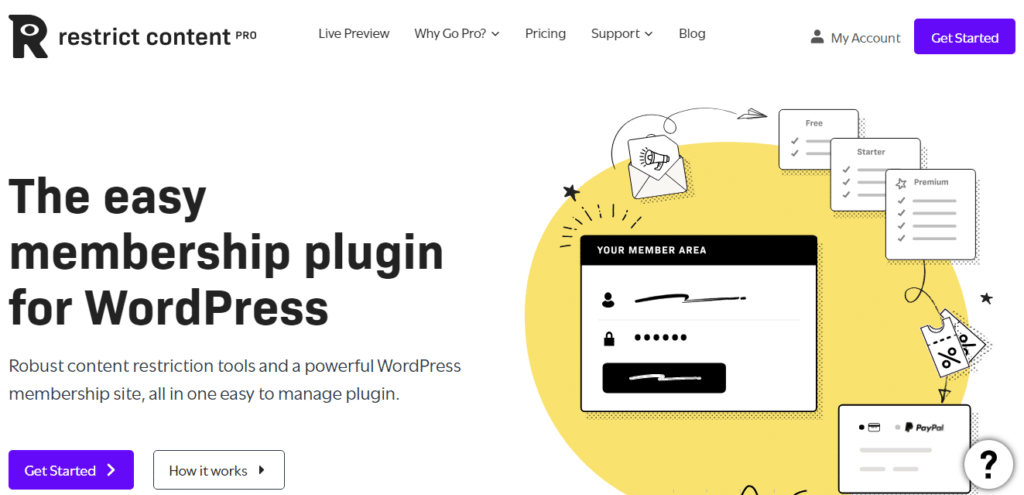 Restrict Content Pro is a well-liked membership plugin designed to give users an intuitive user interface for efficiently managing memberships and controlling access to content on websites. This strong plugin has a number of features that make it a perfect option for people, companies, and organizations wishing to monetize their content and provide premium membership experiences for their consumers. Restrict Content Pro provides in-depth data to keep website owners up to date on the functioning of their membership site.
Paid Memberships Pro: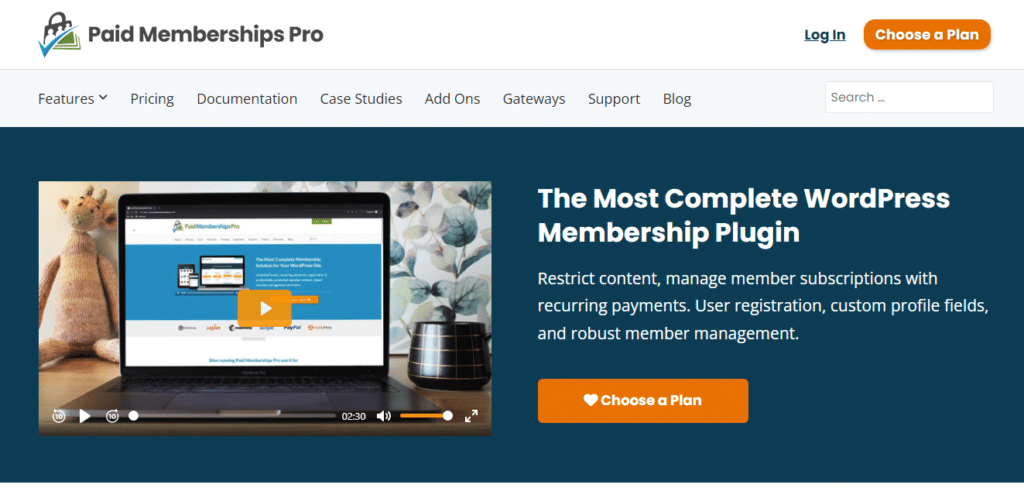 Paid Memberships Pro is an effective and adaptable membership plugin created to improve the functioning of your website by integrating membership features. You can quickly establish and manage various membership tiers with this plugin, govern who has access to what material, and effectively manage recurring payments from your members. Customization is one of Paid Memberships Pro's standout features. The plugin enables you to customize email alerts to make the membership experience more unique. You may create and set up automatic emails that are sent to members in response to a variety of events, such as successful registration, subscription renewal notifications, or account status updates.
WooCommerce Memberships: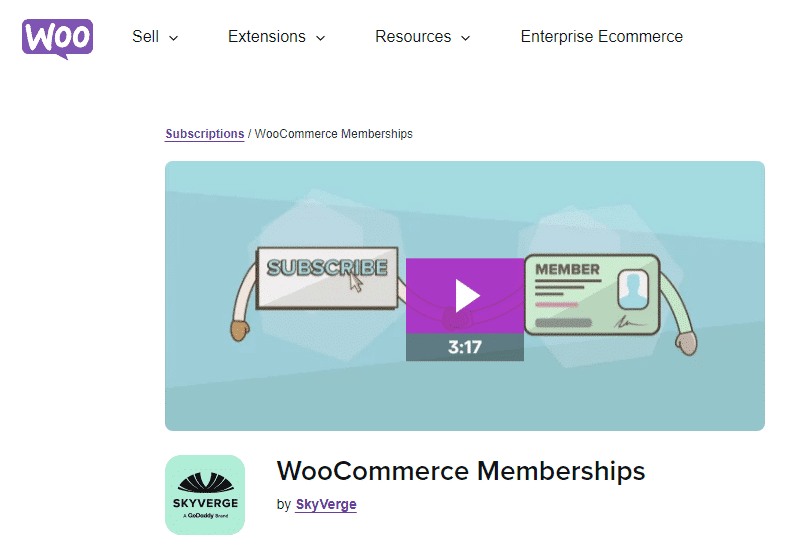 WooCommerce Memberships are a great option for e-commerce businesses that already use WooCommerce. You may sell memberships as goods, manage member accounts effectively, give special discounts, restrict access to content, and sell memberships with its smooth connection. Utilizing WooCommerce Memberships' capabilities will allow you to improve your membership program, provide your consumers more value, and promote ongoing engagement and loyalty. Offering discounts and benefits to your members is made possible with WooCommerce Memberships. In order to provide members access to unique discounts on goods or services, you may set up special pricing for them.
Ultimate Member: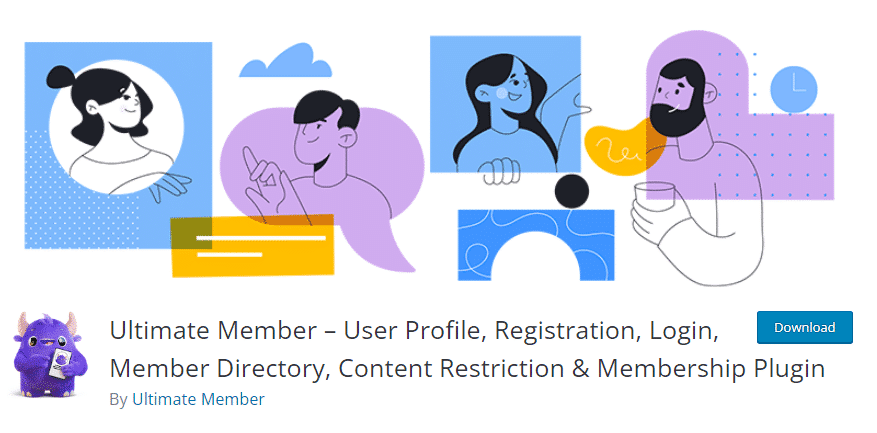 Offering a number of necessary features, Ultimate Member is a strong plugin created to improve the functioning of a membership website. In order to provide its members with a unique and exclusive experience, website owners may build and manage user profiles, membership levels, and access limitations using Ultimate Member. Site visitors can browse through registered members' profiles using the member directory function of this plugin, which is available. This directory may be arranged according to a variety of factors, including user roles, custom fields, and membership levels. By allowing users to find and interact with one another, the member directory fosters a sense of belonging and teamwork among users, enhancing community participation.
s2Member: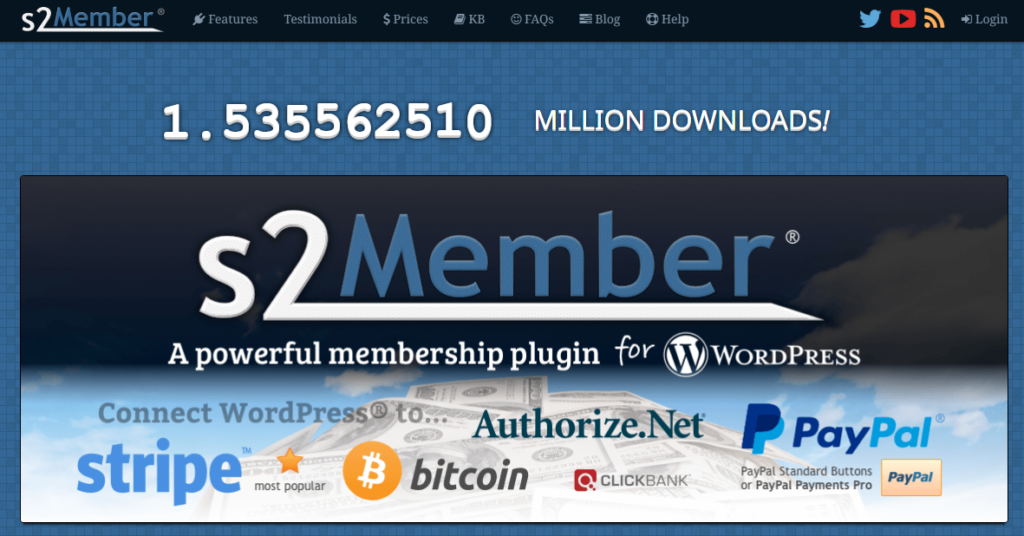 The s2Member membership plugin is a powerful and all-inclusive tool created to meet the diverse demands of website owners who wish to provide membership functionality to their visitors. Users may select the degree of functionality they need for their website by choosing between the two available versions, free and premium. The ability of s2Member to generate several membership levels is one of its primary advantages. Different membership levels, including basic, silver, gold, and any other custom levels that they choose, may be readily set up by website owners. Administrators can regulate the material that users can read or interact with by giving each membership level the ability to have a distinct set of rights and access permissions. Additionally, s2Member gives users the opportunity to set up recurring payments, enable subscription-based memberships, and guarantee a hassle-free experience for both administrators and members.
Wrapping Up
Utilizing the WordPress CMS to build a membership website offers a strong and adaptable method for delivering premium services and content to a selected user base. WordPress makes it simple to develop and maintain a membership website thanks to its intuitive interface and assortment of plugins and themes. A successful membership website can be created by following a step-by-step plan and taking important factors into account, such as registration and login, subscription or fee structure, exclusive content and resources, community interaction, member benefits and perks, progress tracking and personalization, payment, and subscription management, member feedback and testimonials.
The most effective WordPress plugins for building membership websites include MemberPress, Restrict Content Pro, Paid Memberships Pro, WooCommerce Memberships, Ultimate Member, and s2Member. A variety of features are available in these plugins to improve your membership website's usability and user experience. Keep in mind that to preserve security and gain access to the newest features, you should often update and maintain your WordPress installation, theme, and membership plugins. By introducing new material and participating in your community, you can keep giving your members value.