Your domain name serves as the online home for the personality of your website. It is essential to your online presence since it is what people will put into their browsers to access your information. You must engage with a domain registrar—a business that offers domain registration services—to get a domain name for your WordPress website.
Choosing the best domain registrar may be difficult since there are so many options on the market, each with unique features and price structures. However, do not worry! We will go through the important factors to take into account when selecting a domain registrar for your WordPress website in this post to assist you make an informed choice.
Setting up your internet presence requires making the appropriate domain registrar selection. It might be difficult to decide which domain registrar is appropriate for your WordPress website management that offers a wide range of options available with WordPress hosting services. Get the full insight related to the domain registration companies and the important point to consider while purchasing a domain for the WordPress website.
Focus on the Needs of Your Website:
It's crucial to evaluate the needs of your website before starting the selection process. Consider the following queries:
Do you simply need a domain name or do you also need web hosting?
Do you intend to register more than one domain name?
Do you foresee future scalability or high traffic demands? Your search for a domain registrar that satisfies your particular demands will become easier if you are aware of the needs of your website.
Domain Pricing:
The price of the domain should be taken into account when choosing a company for website domain registration. Although many domain registrars provide affordable prices for first registrations, it's as important to consider their renewal costs. Some registrars might lure you in with low initial costs but then charge much greater fees. A straightforward price structure is ideal, and you should double-check that the renewal costs fit into your long-term spending plan.
Features for domain management:
The domain registration company you select should offer tools for easy domain management. Below are some important points to consider:
Domain name system (DNS) management: Make sure the registrar provides simple access to DNS settings so you can properly arrange the DNS records for your domain.
Domain transfer: In case you wish to move service providers in the future, find out if the registrar permits simple domain transfers.
WHOIS privacy: Protecting your domain registration information's privacy is essential. To secure your personal information, find a registrar that provides WHOIS privacy protection or domain privacy services.
Customer support:
When managing your domain name, dependable customer assistance is essential. Choose a domain registrar that provides a variety of help options, such as live chat, email, or phone support. Additionally, find out if they have an extensive knowledge base or community forum to help with frequent questions. When dealing with any administrative or technical concerns, prompt and effective customer service can help you avoid time-consuming mistakes and aggravation.
Reputation and Security:
The security of your domain name needs to be your primary focus. To safeguard your domain against unauthorised transfers or modifications, take into account the security precautions taken by the registrar, such as two-factor authentication (2FA) and domain lockdown. By reading client testimonials, verifying the registrar's accreditation with pertinent organisations, and making sure they abide by industry standards, you can also learn more about their reputation.
WordPress integration:
It's advantageous to pick a domain registrar that works in tandem with the WordPress platform if you plan to use it for your website. Select registrars who have simple integration of plugins for WordPress websites or tools, as this will make it simple to manage your domain settings from your WordPress dashboard.
Additional Services:
Some domain registrars also provide extra services like SSL certificates, website builders, email hosting, and more. Examine the quality and cost of these extra services, as well as if they meet your demands. The ability to manage and receive support from all of your website-related services from a single source might be beneficial.
Track record and history of the registrar:
Look at the registrar's background and performance in the market. Take into account elements like their number of managed domains, years in business, and general reputation. A respected domain registrar with a solid track record is more likely to offer dependable services and assistance.
6 Best Domain Register Companies for WordPress Website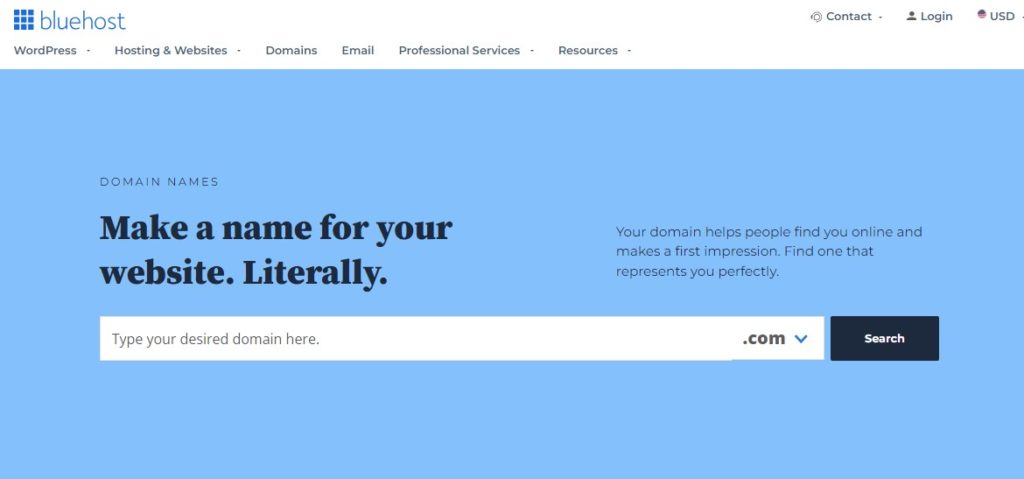 WordPress.org highly recommends Bluehost as a hosting company as it offers tailored hosting plans specifically for WordPress as well as domain registration services, making it simple to manage both your domain and website from one location.
One-Click WordPress Installation: It offers a smooth one-click WordPress installation procedure, and makes the simple website up and running too fastly with the browser.
Domain Name for Free: In case of acquiring a free domain name, Bluehost domain registrar is the best for your website. This enables you to create an online presence without incurring any additional fees.
Additional Security: BlueHost domain will shield your WordPress website from danger and allows easy WordPress website management. The advanced security tools of BluHost include SiteLock to check for vulnerabilities and malware and SSL certificates for website data encryption.
Automatic WordPress upgrades: To guarantee that your website is using the most recent version of WordPress, Bluehost upgrades your installation on an ongoing basis. This keeps your website current and safe.
WordPress Staging Environment: Bluehost offers a staging area where you may test modifications and updates to your WordPress website before publishing them. This enables you to experiment without harming your live site.
Modifiable Themes and Templates: Bluehost provides a large selection of WordPress themes and templates that are modifiable. To give your website a polished and distinctive appearance, you can pick from thousands of possibilities.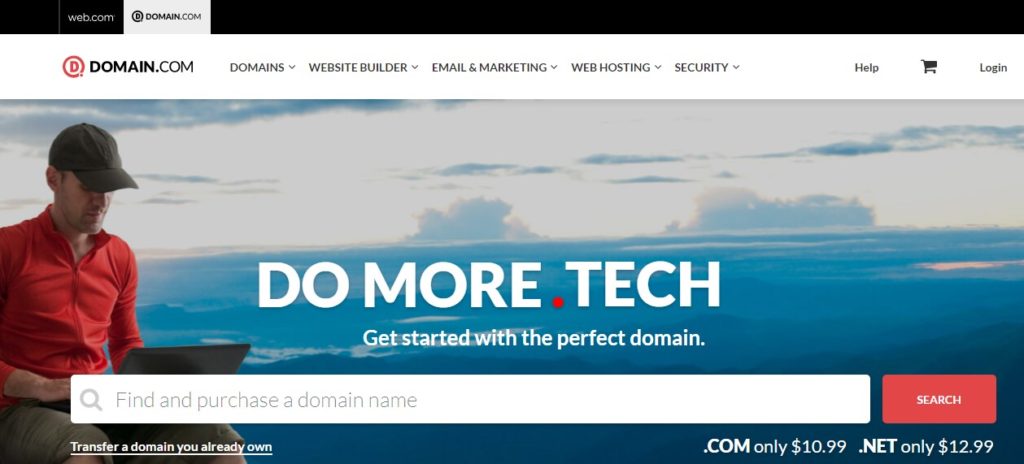 Popular domain registrar Domain.com offers a large selection of domain extensions and seamlessly interacts with WordPress. They provide reasonable prices and easy-to-use domain management resources.
Managed WordPress Hosting: Domain.com offers managed WordPress hosting, meaning they handle the technical facets of maintaining a WordPress website. You can concentrate on producing and managing your content because of features like automatic upgrades, daily backups, and security monitoring.
Themes and Templates: That Are Customisable: Domain.com offers a large selection of WordPress-specific themes and templates that are customisable. It allows you to customize WordPress themes and plugins without having any experience in coding.
Plugins and Extensions: Domain.com offers a number of WordPress plugins and extensions that can improve your website's functionality. One can quickly include them in the WordPress website whether you require an e-commerce solution, a contact form builder, or an SEO plugin.
Domain Privacy: Protecting your personal information is crucial, and Domain.com offers domain privacy services. This service assists in preventing spam and unwanted solicitations by eliminating your contact information from the public WHOIS database.
SSL Certificates: SSL certificates from Domain.com provide safe data transmission between your website and visitors. SSL certificate is the most crucial while you are going to work with sensitive data, financial transactions, and others like this.
Scalability and Performance: Domain.com offers scalable hosting choices to accommodate the growth of your WordPress website. Using technologies like content delivery network (CDN) integration and optimised server configurations, you can guarantee that pages load quickly and that users have a good experience.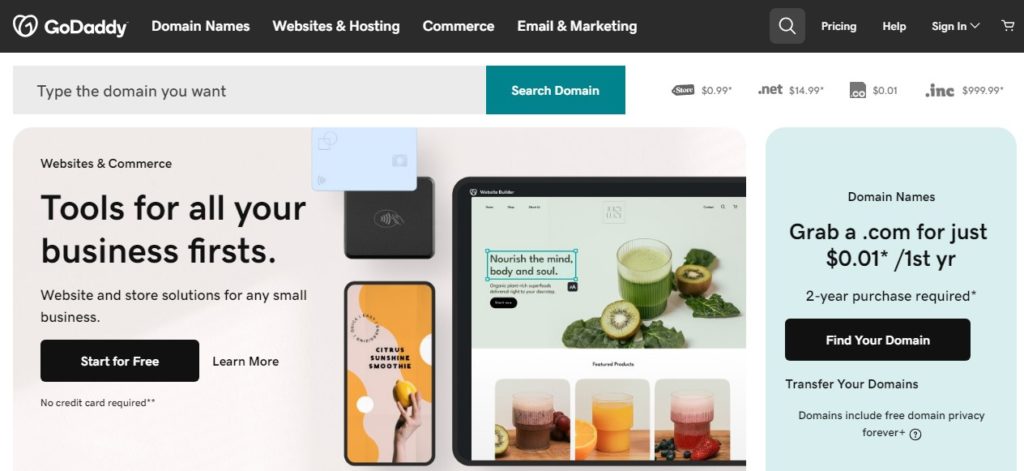 GoDaddy is one of the biggest, most reliable, and standard domain register companies in the world that enables a huge range of domain extensions. They offer seamless WordPress integration and have easy-to-use administrative features. Additionally, GoDaddy provides hosting packages tailored specifically for WordPress.
Managed WordPress Hosting: GoDaddy provides specialised hosting packages that are WordPress-optimized. These subscriptions often offer automated WordPress setups, regular software upgrades, greater security, and expanded functionality.
Domain Registration: As a primary domain registrar, GoDaddy allows register and maintain your domain using their portal sophistically.
Website security: It provides security services to guard your WordPress website against malware, hacking attempts, and other dangers. To guarantee that your website is safe and secure, these services may include malware scanning, firewall protection, and security monitoring.
Website Builder: GoDaddy offers a user-friendly website builder tool that enables you to design websites without any coding experience in addition to WordPress. For users who like a drag-and-drop interface, this can be a useful substitute.
Professional Email Services: This is available from GoDaddy, enabling you to create unique email addresses utilising your domain name. With the aid of this function, you may build a respectable online identity and interact with your target market successfully.
Website Analytics: GoDaddy offers built-in website analytics tools that provide information on the functionality, traffic sources, and user behaviour of your website. You may decide how to optimise your WordPress website with the aid of these metrics.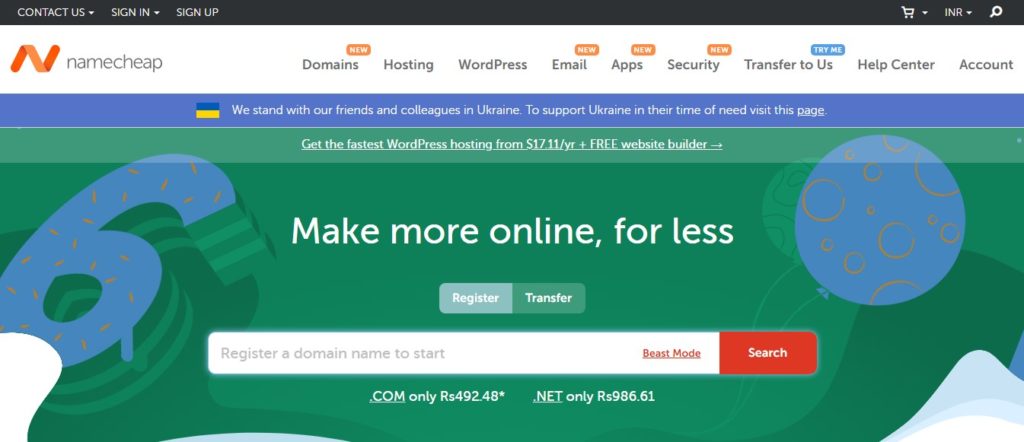 Affordably priced domain registration services are what Namecheap is renowned for. They provide a user-friendly UI, dependable client service, and affordable prices. Websites running WordPress can simply incorporate Namecheap.
Reasonable Prices: Namecheap provides affordable prices for domain registrations, making it a reasonable choice for people and companies of all sizes.
WhoisGuard for Free: It offers free WhoisGuard privacy protection with each domain registration within the account. By hiding your contact information from the public Whois database, this function aids in the protection of your private information.
Wide Selection of TLDs: Namecheap provides a variety of top-level domains (TLDs), including well-known choices like .com, .net, and.org as well as nation-specific TLDs.
DNS administration: Namecheap offers powerful DNS administration tools that make it simple to adjust your domain's DNS settings, create personalised DNS records, and handle services linked to domains.
Dependable Infrastructure: Namecheap runs on a solid infrastructure that guarantees your domains will continue to be reachable and stable. To reduce downtime, they employ redundant systems and have several data centres.
Domain Marketplace: Namecheap runs a domain marketplace where you can purchase and sell premium domains. If you're trying to sell a domain you no longer need or buy a desirable one, this might be helpful.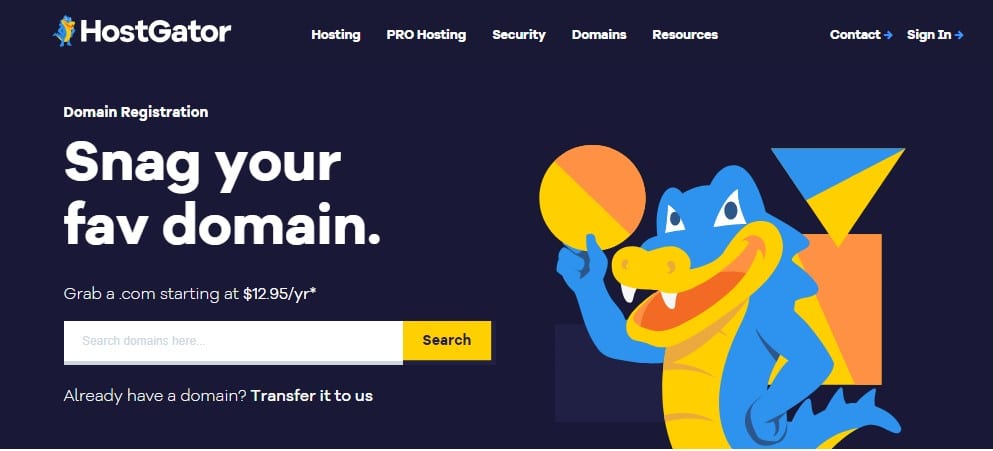 Along with hosting plans for WordPress, HostGator provides domain registration services. HostGator provides a user-friendly interface, standard customer services, and other benefits at affordable prices.
Various Hosting Plan Options: It offers a range of hosting plans that covers shared web hosting, VPS, dedicated servers hosting plan, and cloud hosting plan for your website. As a result, customers may pick a plan that matches their unique requirements and financial constraints.
Reliable Uptime: HostGator offers an uptime guarantee that is dependable, making sure that visitors can always access your website. To reduce downtime and keep high availability, they have a strong infrastructure and data centres.
Limitless Bandwidth: HostGator offers limitless bandwidth, enabling your website to manage a high volume of visitors and data transmission without incurring any additional fees or limitations.
Limitless Disc Space: HostGator offers limitless disc space, so your website files, databases, emails, and other items all have plenty of room to store. As a result, you may expand your website and add material without being concerned about storage space.
cPanel: HostGator allows cPanel to control the website activity from one dashboard. It also offers an intuitive user interface for managing your website, website domains, emails, databases, and other hosting-related settings. It offers a simple approach to managing many facets of your hosting account.
Scalability: HostGator offers scalability choices to meet your expanding demands, whether you operate a tiny website or a huge online business. Your hosting package may be readily upgraded as your website's traffic and needs grow.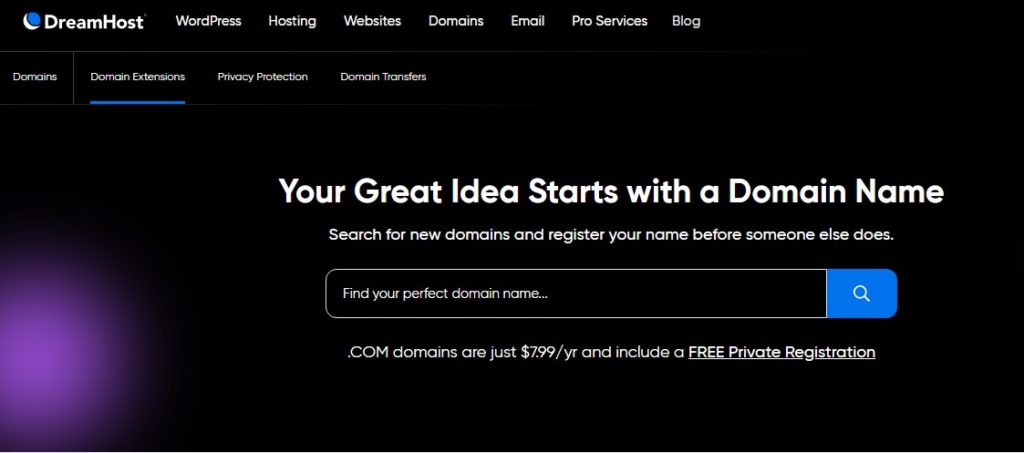 The WordPress.org website also suggests DreamHost as a host. It provides tailored hosting solutions for websites as well as offers the best domain registration services. The management of the website and domain can be done easily by following a simple approach.
Provides Domain Transfer Service: It offers easy and faster domain transfer services. When you have already a registered domain from the other company, with DreamHost, one can easily transfer that domain registration to the DreamHost. You may move your domain to DreamHost and manage it together with your hosting subscription.
Domain Privacy Protection: DreamHost provides domain privacy protection, also known as WHOIS privacy, to preserve the privacy of your personal information. By substituting DreamHost's contact information in the openly available WHOIS database for your own, this service aids in preventing spam and unsolicited solicitations and safeguards your privacy.
Custom DNS Nameservers: With DreamHost, you may choose to configure custom DNS nameservers for your domain. If you wish to utilise a different DNS service or manage your DNS settings outside of DreamHost's infrastructure, this function is helpful.
Unlimited Subdomains: It may be created and managed for your domain with DreamHost. By adding extra sections or sub-sites beneath your primary domain, subdomains let you manage and organise the content of your website.
Email Forwarding: DreamHost offers email forwarding features that let you send emails sent to the email addresses associated with your domain to other email accounts of your choice. By using this functionality, you may use your favourite email service and yet have a business-related email address linked to your domain.
Domain Redirection: DreamHost offers domain redirection, which enables you to change the URL or website of your domain.
Conclusion
Making the ideal choice for your WordPress website's domain registrar may affect both your online visibility and the success of your company. You may make an informed decision by taking into account your website's requirements, cost, domain administration capabilities, customer support, security, WordPress integration, extra services, and the registrar's track record. Before choosing a domain registrar, don't forget to perform extensive research, read client testimonials, and weigh your possibilities. You can succeed online by using a trustworthy and effective domain registrar to make sure everything runs well.